With the Winter weather we've had here in Ireland, everyone is overjoyed to see the coming of spring. The daffodils are up and the temperatures are starting to rise. What better time than to add to your spring summer wardrobe. The fashion events have been held. The shops are stocked with all the new ranges and everyone is glad to see a bit of colour making a comeback.
We have some stunning ladies Aran coats available that are perfect for those spring evenings. We also have a range of stylish men's Aran cardigans, and there's even something for the little ones too.
Spring Summer 2018 Fashion Trends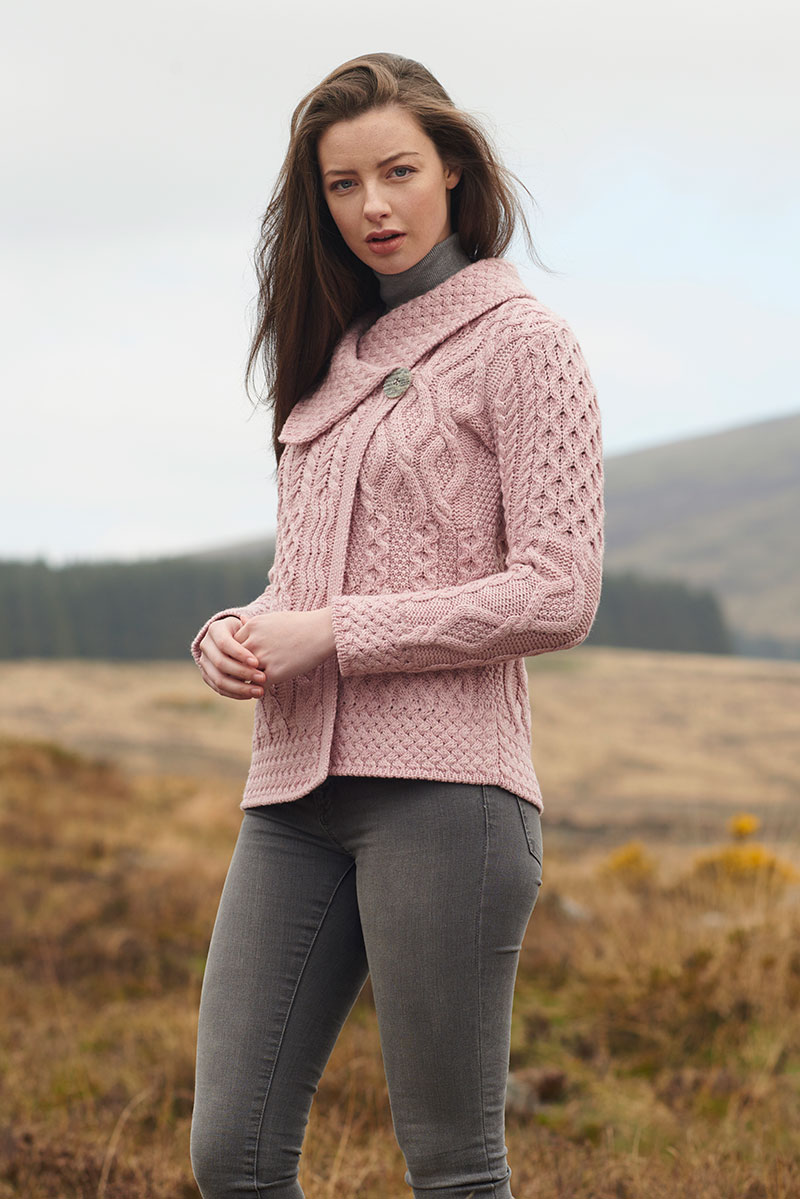 The 2018 spring summer fashion is a fabulous mix of florals, pastels, as well as fun and fresh ideas. Pastel shades are going to be big and because Aran sweaters come in natural tones they are perfect for pairing with trousers and coloured jeans. 
If you think knitwear is only for autumn and winter, you'd be mistaken and there are plenty of great knitwear styles available for spring summer too. Crochet is one of the big trends this year as is chunky weaves and colour blocking. Knitwear is going to be a lot more detailed and will make a statement. Crafted designs are also back in fashion and what better craft than Aran sweaters that a long time to make. Crochet is something you are going to see everywhere in dresses, tops, skirts, and more. 
For a Parisian chic look the tones are neutral and simplicity and quality are what you need to look for. For a more feminine look it will be pastels and flowy designs.
Cardigans, sweaters, turtleneck and poncho styles are all still in for spring summer 2018 but they will embrace softer materials like wool and cashmere so be sure to keep an eye out for our Nua cashmere range and our super soft Merino wool collection.
Intelligent fabric is a term you'll see this year and this includes merino wool and fabrics that combine the magic and beauty of nature with technology. Vitality is something else we'll see and this is all about colour and performance and will include glow in the dark yarns.
Fashion colour trends for 2018 will see the return of the 60s with off-whites, camel, yellow, teal, navy and burgundy. Nature is also going to play a part, and key colours here will be beige, taupe, nude, blush pink, ochre, green, and turquoise.
Ladies Spring Aran Coats 
There's nothing nicer that leaving the big heavy winter coat at home when you're going out and with our stylish Aran coats this is exactly what you can do. We have a range of ladies Merino wool coats that are perfect for our Irish spring weather. 
Men's Spring Aran Wool Coats and Cardigans
Not to leave the men out, we have a range of stylish men's woollen coats and cardigans too. This includes a men's hooded coat and a stylish zip cardigan with patch shoulder detail. Both come in a range of colours too.